Build The Dream Workflow Process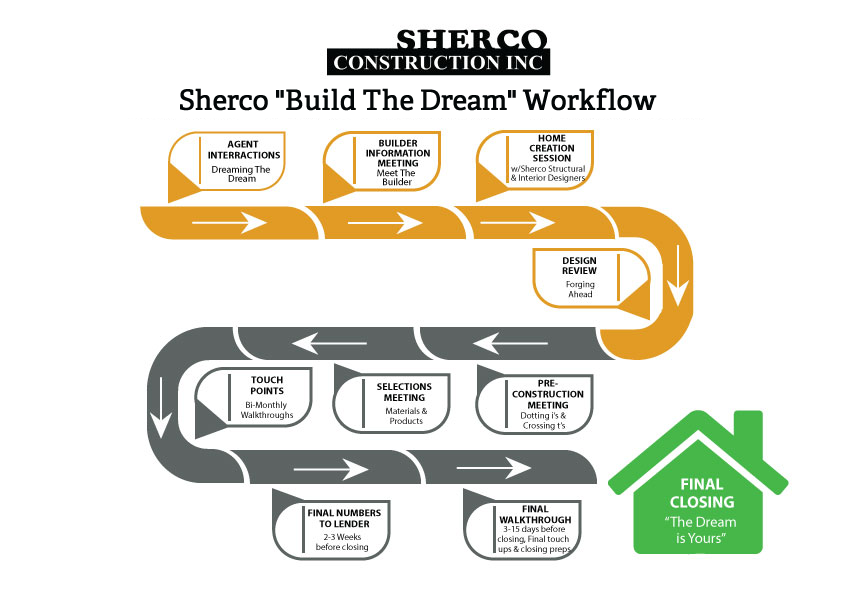 A key component of what makes Sherco completely different from any other home builder is our "Build The Dream" Workflow process.
Sherco has tackled the most common obstacles to an amazing home building experience and scientifically engineered a solution for these commonly experienced pitfalls of building a home.
This exact process is why our customers rave about building with Sherco, while customers of most all other home builders end up frustrated, or even angry about the home building process.
Here's how it works:
We identified the most common frustrations and breakdowns in the home building process and created a system (Workflow) of building a home that solves those issues before the building process ever begins.
These common issues are:
Poor or No ongoing communication from the builder
Frustrations and expectations with the timeline of building the home
Surprise cost changes that lead to a shocking final home price
These issues have caused thousands of new construction homeowners to "Never Recommend" their builder to friends and family. However, because of the Sherco "Build The Dream" workflow process, a significant portion of our new home builds are repeat costumers or family members of customers. This is virtually unheard of in the industry.
When you meet with us, you will see how Sherco's "Build The Dream" workflow systematically eliminates these pitfall issues from the building experience and delivers beautifully built homes, happy customers and lifelong friends – all at the same time.
Visit our "Recent Testimonials" page to see the customer results of this process
Get the details of how Sherco's "Build The Dream" Workflow process will provide YOU with a home building experience you will truly love.